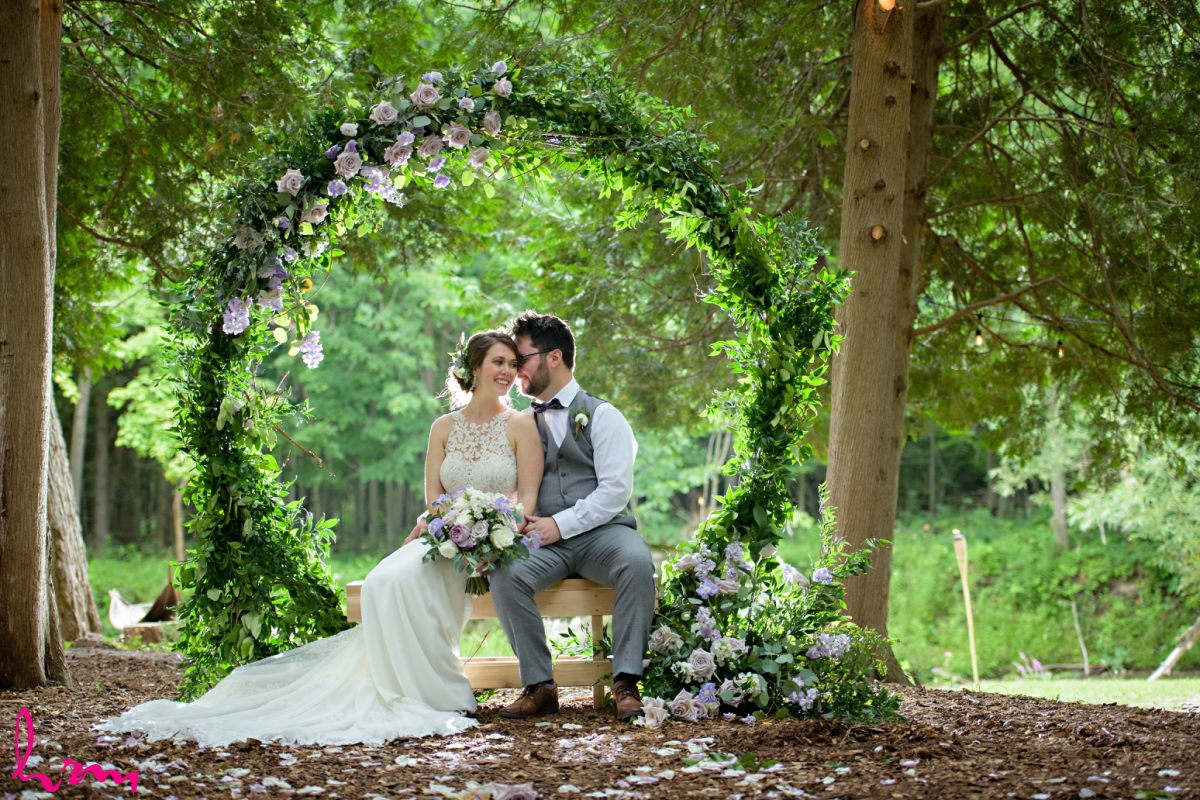 Describe the vision/theme you had for your wedding in 5 words or less: Enchanted forest, nature's elegance
What are you favorite memories of your wedding day?
Bride: our 7 minute dance at the end of the night, (the wine song, cat empire), the maypole (at 11:00pm!), the campfire at our ceremony site to finish off the night.
Groom: seeing my wife for the first time in her wedding dress
Best wedding related decision: To NOT have a bridal party. Rather we had both our immediate family members as the procession. We all sat together at one "kings table" of 22 people instead of a "head table".
Also our wedding was very customized to reflect our life together. We had our closest friends do integral jobs as part of the ceremony (old family friends hosted at their beautiful creek lined wooded yard, my best friend Meghan was our unofficial officiant, our friends Kate and Eryk signed the marriage license, my cello teacher / friend Amanda played cello during our service and cocktail hour.)
Favourite detail: Our beautiful giant wreath served as a natural "photo booth" substitute. And the tulle hanging in trees danced in the wind and made our ceremony site extra special. We can't pick a single favourite, everything detail was worth mentioning.
Advice for future brides & grooms: Do what reflects your priorities. Don't be worried about not having a wedding party with you. It takes a lot of pressure off. And Your friends will still want to go wedding dress shopping, help set up and do all the other fun wedding duties at your side!
Would you change anything if you could do it all over again? We would remember to have our nephew ring the dinner bell (it's a cowbell I bought in Switzerland for my Dad)! But overall, it went better than expected – specifically the weather!
Best surprise of the day: The weather. It rained 5 km away, but at our venue, the sun came out just before the procession began. We are certain we had some dearly loved ones pulling strings up above.
Anything else you'd like to add: Even if you think you don't want to, have a video done. Matt Dupont did a beautiful job of ours and it's so special to witness the ceremony and the day from a different point of view than what you experienced. We shared the ceremony portion of our video at a BBQ we hosted the following weekend for all the extended family and friends we couldn't invite to our actual wedding.
VENDORS:
Ceremony Location : Wit's End (Private Residence in Delaware Ontario) | Officiant: Kathy Tovell | Cake: Desserts with Sticky Pudding Catering | Dress: Essence of Australia, Sophie's Bridal Gowne Shoppe | Flowers/Decorator: Springhill Flowers | Hair/Makeup: Kerry Rirordan | Caterer: Sticky Pudding Catering Company | DJ: Greg from Music Central | Rings/Jewelery: Richmond Diamonds | Groom's Attire: Moore's
WEDDING SONGS:
Processional: Nobel Maiden Fair
First Dance: Moon River
Father/Daugther : Landslide by Fleetwood Mac,
Mother / Son: Baby Mine by the Okie Dokie Brothers
End of night dance : The Wine Song by the Cat Empire