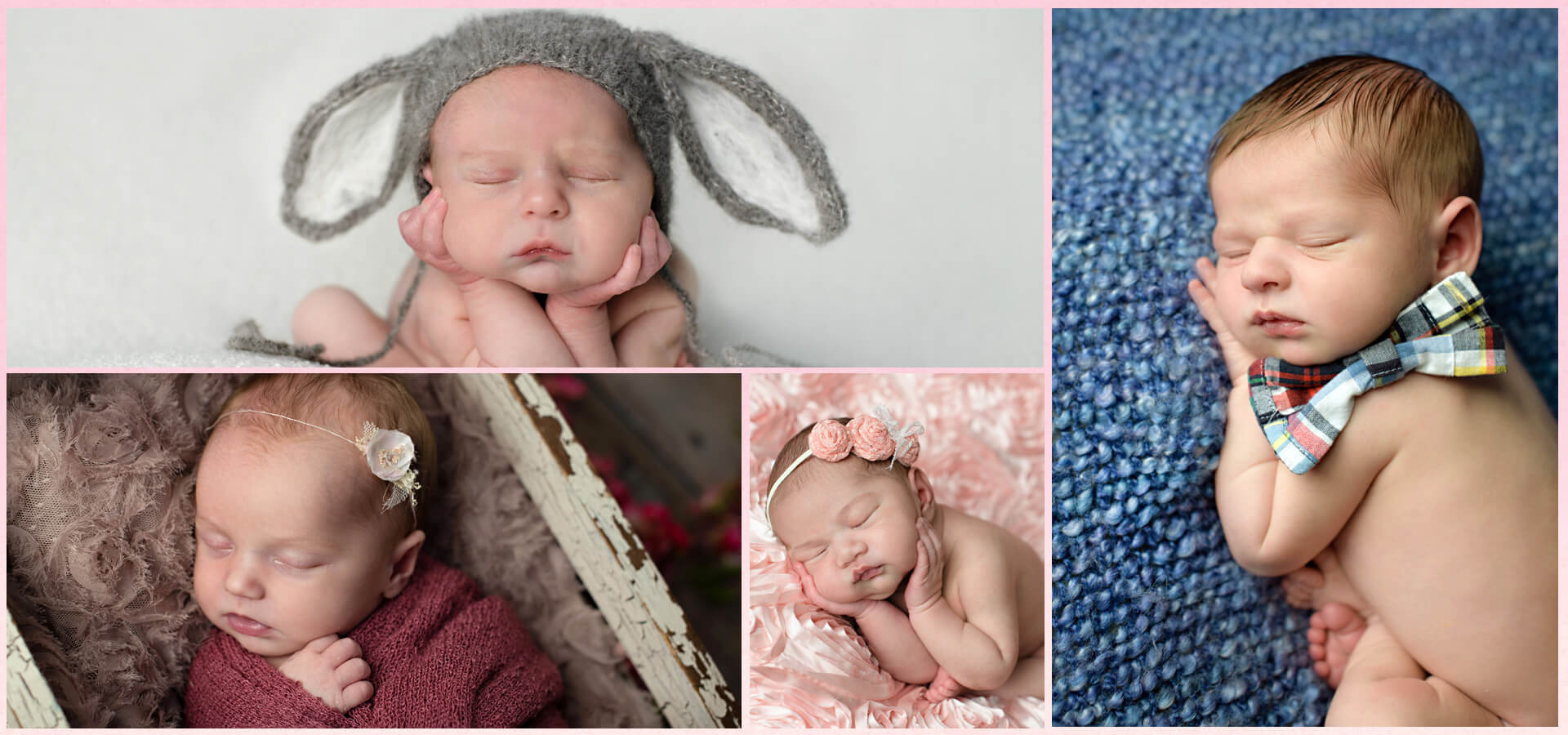 The main differences are location and style. A studio session takes place at our photo studio, with access to our props, backdrops and studio lighting. In a studio session we focus mainly on the baby, taking those curly sleepy poses. Baby should be between 5-14 days old for a studio session.We do also take family pictures in the studio, but they are more "posed" than in a lifestyle session. We schedule up to 3 hours for a studio session to allow for lots of time to feed, change and settle baby in between poses.
A lifestyle session is a more casual session done at your home, usually in your bedroom and/or baby's nursery. We focus on interaction between baby and parents in the comfort of your own home.  We do also take solo shots of baby alone, although not as "posed" like in a studio session. This is a great option if you have other children you would like to include in the session as typically young siblings will be more comfortable in their own environment.
With siblings, we can take sweet photos of your family cuddled together reading on your bed, the new big brother or sister helping with bath time or the whole family making pancakes, etc. The newborn can be quite a bit older for a lifestyle session as there is less posing involved. There really is no age limit, but to still get that "newborn" look, we recommend baby is between 2-6 weeks for a newborn lifestyle session.
Newborn session in the studio should take place within the first 5-14 days after the baby is born. We usually book 3-4 months ahead of time, and suggest that to avoid disappointment you book your session before the baby arrives (we may still be able to accommodate you if you contact us after they are born depending on our schedule) We pencil you in for your due date and keep a few dates available the weeks surrounding your due date. Please add us to your birth announcement list and we'll contact you asap with a few dates & times. Newborn sessions are available during the day Monday – Friday.
*** NOTE TO PARENTS OF BOYS: If you are planning on circumcising your son, we STRONGLY recommend that your photo session takes place BEFORE the circumcision, otherwise we request that the photo session take place at least 3 days after his circumcision to avoid any discomfort to your baby.
After the first two weeks, newborns start to become more awake, stretch out of their curly womb like poses, are more prone to baby acne and much harder to pose in peaceful sleepy shots. If your baby is older than 2 weeks old, we suggest a lifestyle session as an alternative.
For current pricing, please visit our investment page.
A newborn session at our studio includes the session (up to 3 hours of shooting time), a private online gallery to view your images (approx 30-50) and ALL images in the gallery as edited high res files on DVD. 
Our most popular package is the "baby's first year" package which includes 4 sessions (maternity/newborn/6 months/1 year OR newborn/6 months/9 months/1year). This package includes a stunning 10×10 custom coffee table book with 20 pages.
We also have a newborn/maternity or newborn/6month package. This includes 2 sessions, online gallery and high res files. For after your session, we have a variety of products available: canvas prints, birth announcements, custom albums, etc.
We photograph newborns in our beautiful downtown London, Ontario photography studio – we've set it up to be the perfect environment for London Ontario Newborn Photography: we have lots of props (hats, antique boxes, beautiful backdrops), a comfy nursing chair (and pillow) for the new mom, it's cozy & warm and you'll love the images we're able to create here! If you are looking for those sleepy, curly photos this is the spot for you! You are also welcome to bring your own accessories or props, but certainly don't need to - we've got LOTS - do let us know if you have any special requests!
If you would prefer that we come to you, we approach the session as more of a lifestyle shoot: cuddly shots with mom & dad, bath time, baby in their nursery. This is a good option for older (3+ weeks) babies.
Weather permitting, we are also happy to do newborn sessions outside (or add a second location to your studio session). Imagine your sleeping baby in a basket surrounded by a field of blossoms – stunning!
It's hard to predict exactly how long a newborn session might take so we suggest that on the day of your session you have no other appointments. We allocate up to 3 hours to allow plenty of time for feeding, calming, changing, etc. We want to make sure you get the best images possible so don't rush the session!
That is totally up to your comfort level! We encourage parents to be in at least a few photos with their newborn at the end of the session, but you certainly don't have to be if you aren't feeling quite up for smiling at the camera just yet (we've been there with the sleep deprivation!) There are always ways to include the parents in the pictures without having to smile for the camera - baby looking oh so tiny in Dad's hands, or baby snuggled into Mom's shoulder getting a sweet kiss on the forehead.
From past experiences, we have found that photographing young siblings with a newborn is a stressful experience for everyone involved: the newborn, the toddler, the parents and the photographer! Siblings, especially those younger than 5 years of age can be easily distracted and excitable in the studio, causing safety concerns for the newborn. As newborn photos should be done within the first 10 days, we find that siblings are still going through an adjustment period and overtired parents can get easily upset with how frustrating it is to pose the sibling(s) and newborn together. This leads to the newborn getting stressed out and then we have difficulty with the rest of the session as well. 
Our best results with young siblings are by doing a lifestyle session at your home, or doing a separate mini session when baby is 4-6 weeks old (available as an add on to your studio session for $150). By then everyone has had time to catch up on their sleep and the sibling(s) and newborn have gotten to know each other a bit more!
If you want to have images taken with your newborn and their sibling and/or family photos including the sibling taken on the same day as your studio newborn session, we allocate 30 min at the END of the 3 hour session for these images.
Young siblings cannot be accommodated at the studio for the whole session. Please have a friend or family member arrange to bring them for the LAST 30 minutes at the END of the session. Please keep in mind, that in doing these types of images as part of the individual newborn session we may have to cut your newborn session short in order to be able to achieve family & sibling photos as well during the session.
We understand how important it is to have family photos taken but want it to be an enjoyable experience for everyone!