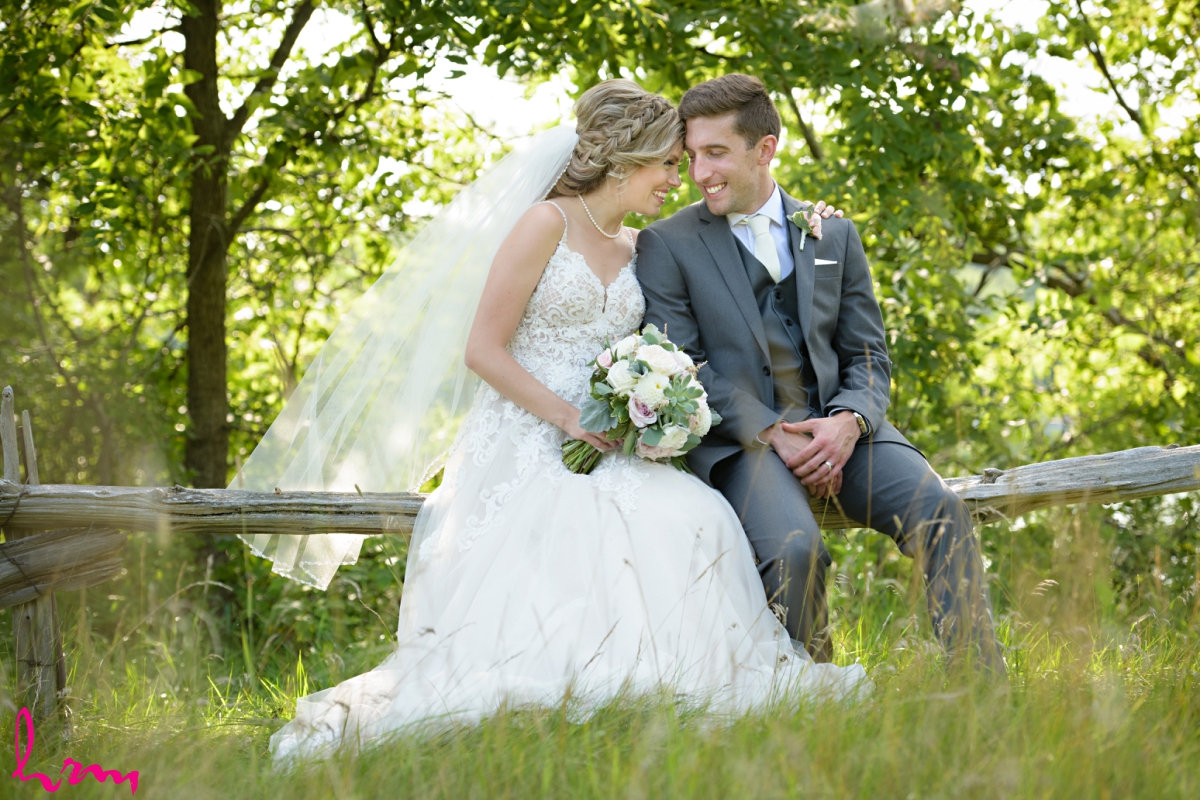 Describe the vision/theme you had for your wedding in 5 words or less: Romantic, elegant with lots of flowers.
What are you favorite memories of your wedding day?
Bride: It is hard to pick just one! Of course the best moment was walking down the aisle to Will. The second was being pronounced husband and wife! I really enjoyed the morning before the wedding, spending the time getting ready with my best friends, sister, mom and mother in law. Another favourite part for me, was the speeches. They were all so heart felt and meaningful.
Groom: Waiting for Christine to come down the aisle, looking out and seeing everyone who has ever been apart of my life and then seeing Christine walk do the aisle with a smile on her face.
Best wedding related decision: Hiring a same day wedding coordinator. We worked with Amy and her team from Unmistakably You. Having a coordinator made our day totally stress free allowing us to be in the moment the whole day to really enjoy our wedding to the fullest.
Favourite detail: We had the opportunity to have a very special family friend officiate our wedding. This gave us the freedom to write our own ceremony. We worked on it together for about four months leading up to the wedding. We read countless ceremonies online. We were able to create a ceremony that was special to the two of us. From our opening prelude to the meaning we wanted between our rings. We also wrote our own vows to go along with our unique wedding ceremony. To us, there we put in a lot of work and in the end feel that our wedding ceremony captured our love and story more than perfectly. It could not have been more meaningful.
Advice for future brides & grooms: A wedding is a lot of work! Our advice would be to hire a team that you trust and understands your vision. All our vendors were amazing and I feel like without all their help our day would not have turned out exactly as we envisioned it. On another note, have fun, it is your day and everyone is there to celebrate you. An amazing moment for us was when we stood up to do our speech and looked out, every single person that means something to us as a couple is under one roof. It is such a surreal experience, take a moment, take a breath and just enjoy every moment, as cliche as it is, it goes by fast and you really do want to remember every single moment on such an incredible day.
Would you change anything if you could do it all over again? Not a chance! The day was more than perfect and it was exactly as we pictured it. It was funny, two weeks before the wedding, Will said to me. "I think you should prepare yourself that something will likely go wrong on the day of the wedding. I don't want you to be upset if it's not perfect." Well turns out, the day was more than perfect! We wouldn't have changed a single moment or detail.
Best surprise of the day: The best surprise of the day actually happened a few days before the wedding! My friend from Australia called me about a month before and she said that she was going to come to the wedding, which was a huge surprise in itself. We decided that she had to be a bridesmaid. I had my sister (maid of honour) help in a number of bridal stores in Ontario looking for a bridesmaid dress to match. We ended up finding one, which was her size. Two days before the wedding, we picked her up from the train station and I was able to surprise her with the dress, we got it altered that day. It was so special to have her stand up there beside me on my wedding day!
VENDORS:
Ceremony Location – Forest City National | Reception Location – Forest City National | Officiant – John MaGuire | Cake – (Cupcakes!) Grandma's Oven Bakery | Dress – Essence of Australia purchased at Lovebird Bridal Boutique, Kingston, ON. | Wedding Planner – Amy, Kassandra and Jennifer Unmistakably You | Flowers/Decorator- Flowers – Spring Hill Flowers, Decorator – Amy, Unmistakably You | Hair/Makeup – Selah Vie | Caterer – Forest City National | DJ – DJ Focus | Rings/Jewelery – Michael Hill rings, Necklace – gift from my mother, my father gave it to her on her wedding day. | Groom's Attire – Munrano's Formalwear Kingston Ontario | Bridesmaids dresses – Bridal Creations Kingston Ontario, Bill Levkoff, Petal Pink.
WEDDING SONGS:
Processional- Officiant and families – This is it – Scott McCreery
– Will and Groomsmen – Lover of the Light- Mumford and Sons
– Bridesmaids – Thinking out Loud – Ed Sheeran
– Christine – Speechless – Dan and Shay
Recessional – Can't Stop the feeling – Justin Timberlake
Entrance – I can't feel my face -The Weekend
First Dance – And Then Some- Arkells
Parent Dances – Father daughter – T Carter Music – Daddy's Little Angel, Mother/son – Prairie Wind – Neil Young
I cannot say enough about Heather and her team. When we first got engaged, I started looking for photographers. I searched a number of different galleries and blogs but I always came back to HRM's website. The pictures Heather and her team capture are so inviting and were exactly the type of photos I wanted for our day. Heather was able to come to Kingston to do our engagement photos which was amazing to have them done in our city. On our wedding day Heather was amazing to work with, she kept us on track and captured our day, memories and the emotions so perfectly. We loved working with her and are so happy that we chose HRM to work with on our wedding day. Hands down the best!