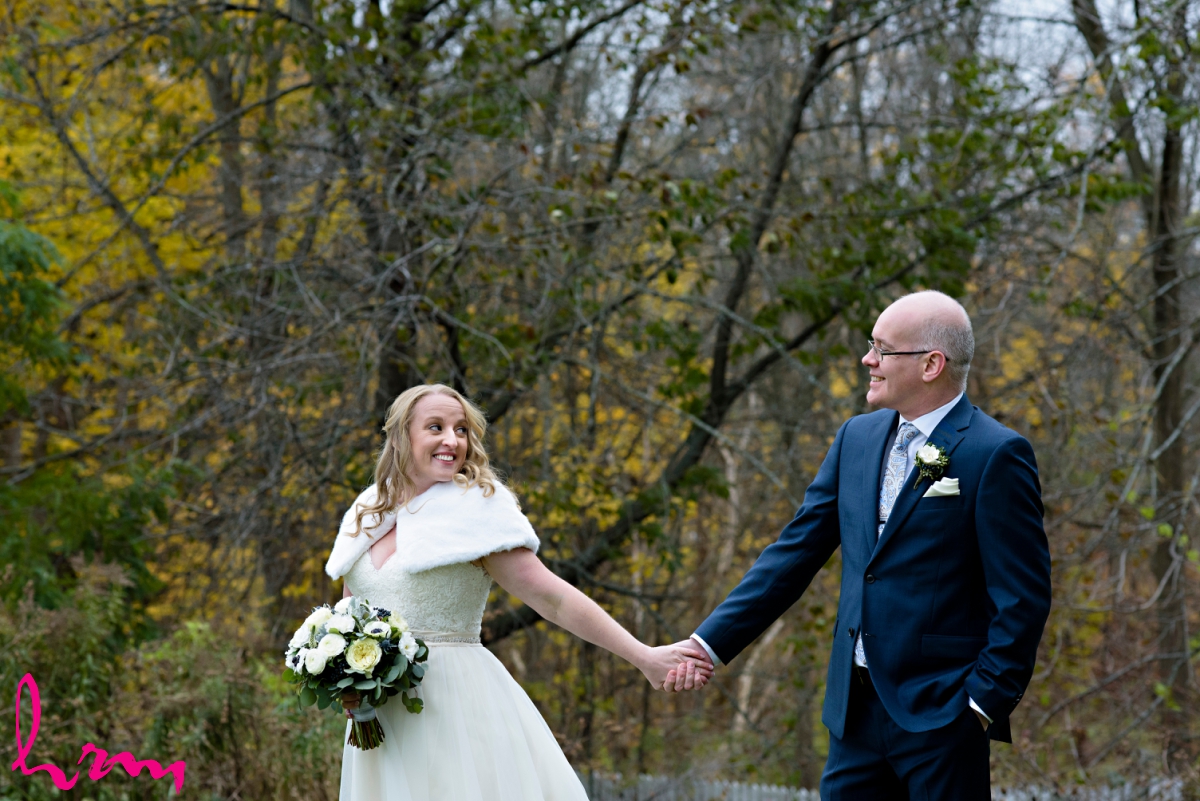 Describe the vision/theme you had for your wedding in 5 words or less: Simple yet elegant celebration!
What are you favorite memories of your wedding day?
Bride: It was an amazing feeling to be standing across from Rob in the Chapel, surrounded by our close friends and family. I completely forgot what I was supposed to do/say because it was all so overwhelming! (Luckily the Officiant kept us in check!)
Groom: When the Chapel doors opened and Tanya walked down the aisle.
Best wedding related decision: Besides choosing the right Groom….The venue was gorgeous! It was the first place we visited and we knew right away that it was the perfect venue for us.
Favourite detail: Coordinating all the menus, signage and décor myself – it all came together better than I had imagined.
Advice for future brides & grooms: Try to relax and have some down time in the morning to just be present and enjoy the day. Delegate, delegate.
Would you change anything if you could do it all over again? I was the Wedding planner and the Bride and I wouldn't have had it any other way! However, the venue coordinator who was supposed to be there day-of was mostly MIA so that created a few problems/ forgotten items. In hindsight, I probably should have hired someone for day-of coordination. However, I am proud to say that the small things that went wrong probably went un-noticed by our guests! It was months and months of planning, but overall the day went smoothly and everything turned out perfect!
Best surprise of the day: Waking up to a snow-covered garden was definitely a surprise!! We were hoping for a sunny October day. But the weather cleared up for a few hours and we got some amazing shots of the bridal party. Rob and I did a first look, which turned out to be the best decision because it was the only time for (dry) photos!
Anything else you'd like to add: Lindsay and Jordan were so amazing to work with!! They jumped right in and were there 110% for the whole day. They made it feel comfortable and they were adaptable, which is key when finding a good photographer. Especially when things like morning snow and afternoon rain surprised us.
VENDORS:
Ceremony Location: The Doctor's House Chapel, Kleinburg | Reception Location: The Doctor's House – Country Fare Room, Kleinburg | Officiant: Dennis LaBuick | Cake: Yorkshire Pudding Catering | Dress: Allure, Becker's Bridal | Flowers: The Flower Room | Hair/Makeup: Catherine Morales (hair) and Jennifer Topp (make-up) | Caterer: The Doctor's House | DJ: Platinum Entertainment | Rings/Jewellery: Peoples | Groom's Attire: Moores | Bridesmaids dresses: Bari Jay, Jealous Bridesmaids | Cookie Favours: Megan Warne of Downtown Dough T.O. | Organist: Ida Puzzo of Hit That Note Studio
WEDDING SONGS:
Bridal Party: "Air on the G String"
Processional: "Pachelbel Canon in D Major"
Registry signing: "Dream a Little Dream" by The Mamas & The Papas (Mother and Sister of Bride sang)
Recessional: "Rondeau" by Mouret
Entrance: "How Sweet It Is" by James Taylor
First Dance: "A Thousand Years" by Christina Perri
Choosing HRM photography to capture our wedding day was one of the easiest decisions of the entire wedding process! When I met with Lindsay it sealed the deal that she would be the perfect fit – it felt like talking to an old friend.
It was daunting for both of us to have so many photographs taken, but we started out with an engagement shoot in Unionville (where we went on our first date) and the process was so easy and Lindsay made us feel comfortable right from the start!
On the day of the wedding, Lindsay and Jordan were both amazing! They worked together so well and made sure that we were comfortable with everything and that we stayed on track. The wedding day goes by so fast that it felt so good knowing that we could put all our trust in them to capture all the important moments without having to worry ourselves. They were the perfect balance of getting all the photos without being too "in your face". They were also great at capturing some unique photos of us both inside and out when it started to pour! They went above and beyond our expectations, creating a calm, fun, easy-going day for the entire bridal party.
We have only seen the sneak peeks so far but WOW….they are stunning! They look more beautiful than we could ever have imagined! I would recommend anyone to HRM – not just for weddings but any occasion. We can't wait to celebrate many more milestones with them…
Thank you Lindsay and Jordan!