WOW! We are absolutely thrilled to announce that we have made the list, at #16 for the PWPC (Professional Wedding Photographers of Canada) TOP 20 CANADIAN WEDDING PHOTOGRAPHERS!
You can see some of our winning images for the PWPC's image contests from 2012 here.
Thank you PWPC! And congrats to the other photographers with a special shout out to two of friends on this list, Christina Craft and Brent Foster! Well deserved!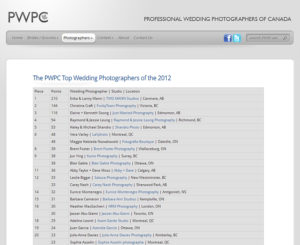 – Heather