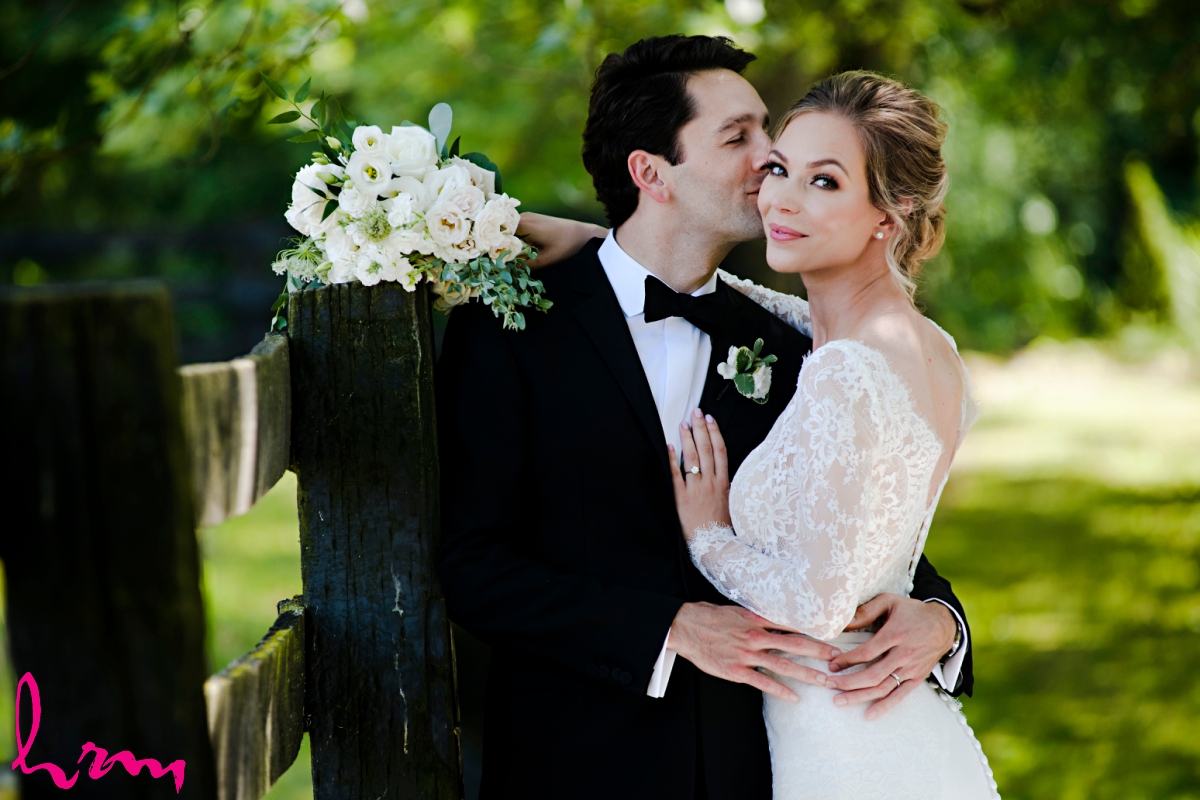 Describe the vision/theme you had for your wedding in 5 words or less: Chic, intimate, fresh, classic, joyful
What are your favorite memories of your wedding day?
Bride: We flipped the "first look" concept on its head for our elopement — we got married privately in Toronto, and then drove to my parents place in Dorchester where we came around to the backyard as husband and wife — I'll never forget the first look with my family!
Groom: Sharing, in a private ceremony, the vows we wrote together
Best wedding related decision: When we knew our original Toronto New Year's Eve black tie wedding wasn't going to happen, we decided (with under a month's notice) to pivot to a fully private elopement in July.  It involved transcontinental flights, last minute alterations and a two week quarantine, but our flexibility in making this happen felt like such a testament to our partnership.  The original plan never would've allowed us to have photos in my childhood backyard — being able to do so was such a meaningful experience.  My parents now have photos of all three of their children, on their wedding days, all on the property they built.
Favourite detail: Even though it was a bazillion degrees out, I'm so happy I was able to wear the dress I planned to wear on New Year's Eve.  I knew from the moment I saw it online that it was the one I wanted.
Advice for future brides & grooms:  
Bride: Root yourself in reality. The "Instagrammable-ness" of your wedding, is not the right barometer of how much you love your partner. Think deeply about what would actually be a fun real life experience for you and a small group of your favorite people. Make it affordable for your situation, and prioritize the opportunities to laugh, have great food, and feel supported by your community as you kick off the next life chapter.  If you chase the tacky Instagram wedding (looking at you, brides descending from a hot air balloon to cut a 30 tier cake with a bedazzled sword!)  you may find yourself poor, lonely, and very stressed.  Your wedding is not a Las Vegas performance, or a social media competition.  Celebrate the milestone in a way that feels authentic to you.
Ryan: If you're getting married in a pandemic, re-frame your expectations.  You can find joy in other ways of doing it.  Flexibility and open-mindedness will go a long way.
Would you change anything if you could do it all over again? No!
Best surprise of the day: The baristas faces when we stopped at Starbucks on our way from Toronto to Dorchester!
Kudos: "Booking Heather was the *best* last-minute decision we made for our elopement! We weren't even going to have a photographer for the second half of the day (we already had one that came with the elopement package earlier that day in Toronto).  Heather's photos far exceeded our expectations, and are truly gorgeous keepsakes!  Heather made excellent use of my parents' spectacular property — the photos are crisp, bright, and perfectly capture the day's joy.  I'm already thinking up excuses for future sessions with her!" – Lauren & Ryan
VENDORS: Ceremony Location: Graydon Hall Manor, Toronto | Reception Location: Childhood home – backyard | Officiant: Jeremy Citron | Cake: Nadia & Co | Dress: Pronovias | Wedding Planner: Laura & Co Events | Flowers/Decorator: Rachel A Clingen | Hair/Makeup: Jen Evoy Studio | Groom's Attire: Burberry tuxedo, Zegna shoes