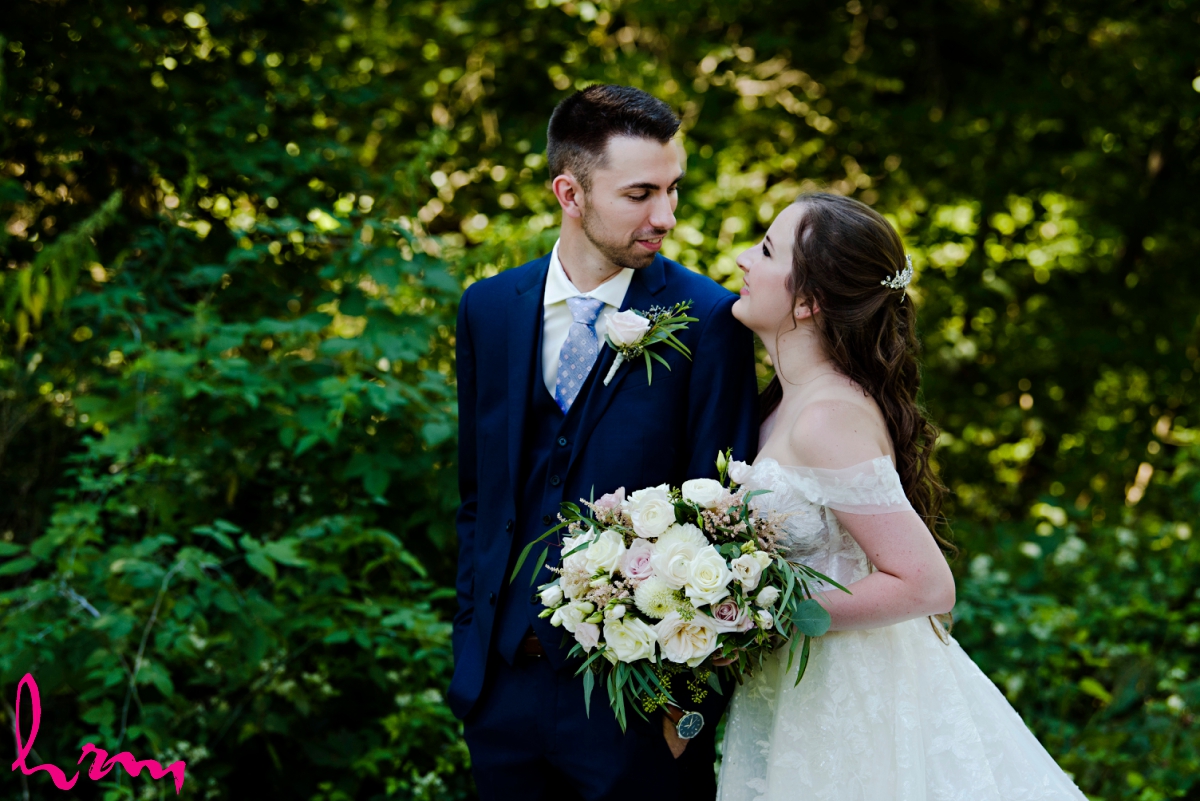 Describe the vision/theme you had for your wedding in 5 words or less: Romantic & intimate
What are your favourite memories of your wedding day? 
Bride: "Everything! From getting ready with our moms and my new sister, seeing my groom for the first time, taking photos for hours to having a delicious dinner and our first dance the day was perfect!
Groom: "Sharing our first kiss together as husband and wife"
Best wedding related decision: Choosing HRM photography! Heather and Jordan were both amazing to work with and some of our guests even said they fit right in and seemed like they had known them forever. They are both amazing and professional photographers but they went above and beyond being just a photographer… reminding us to eat and drink, tide sticks to the rescue, fixing dresses and helping with flowers they did more than we ever could have imagined. We are so glad we went with HRM to capture all of the memories of the day.
Advice for future brides and grooms: If you don't want to have a bridal party don't feel like you have to. We choose not to have a bridal and never once regretted it! This kept the focus on us the entire day and gave us more time to take photos (just the two of us) and have a romantic sweetheart table for dinner.
Best surprise of the day:
Bride: "Seeing my groom tear up when I walked down the aisle. He's not a very emotional guy so I didn't have any expectation that he would but was pleasantly surprised"
Groom: "Seeing my beautiful bride in her dress for the first time"
Anything else you'd like to add: Choose professionals! Our day went off without a hitch because of all of our amazing vendors. Each and everyone of them helped us bring our vision to life and have the most wonderful day. They were all timely, professional and love what they do. We didn't have to worry about a thing on our big day. Ask your venue for a recommended vendors list or go with any of ours as you won't regret it.
Vendor list: Ceremony location & Reception location – Elm Hurst Inn and Spa | Officiant: Tina & Mike Dias | Cake: Grandmas oven | Dress: Martina Liana from Sophie's bridal | Flowers & decor: Mary and Elise from Springhill flowers | Hair: Nancy Garcia from Special Effects Salon | Makeup: Kayla from Alycat | DJ: Tyler from l.o.v.e music | Rings: RUDIX Jewellery | Grooms attire: Moore's
Wedding songs: Processional: With you – Tyler Shaw | Recessional: Women Ahmen – Dierks Bentley | Entrance: Holy -Florida Georgia line | First dance: Promise to lover her – Blane Howard | Parent dances: Father Daughter – I loved her first -Heartland | Mother Son – My wish -Rascal Flats