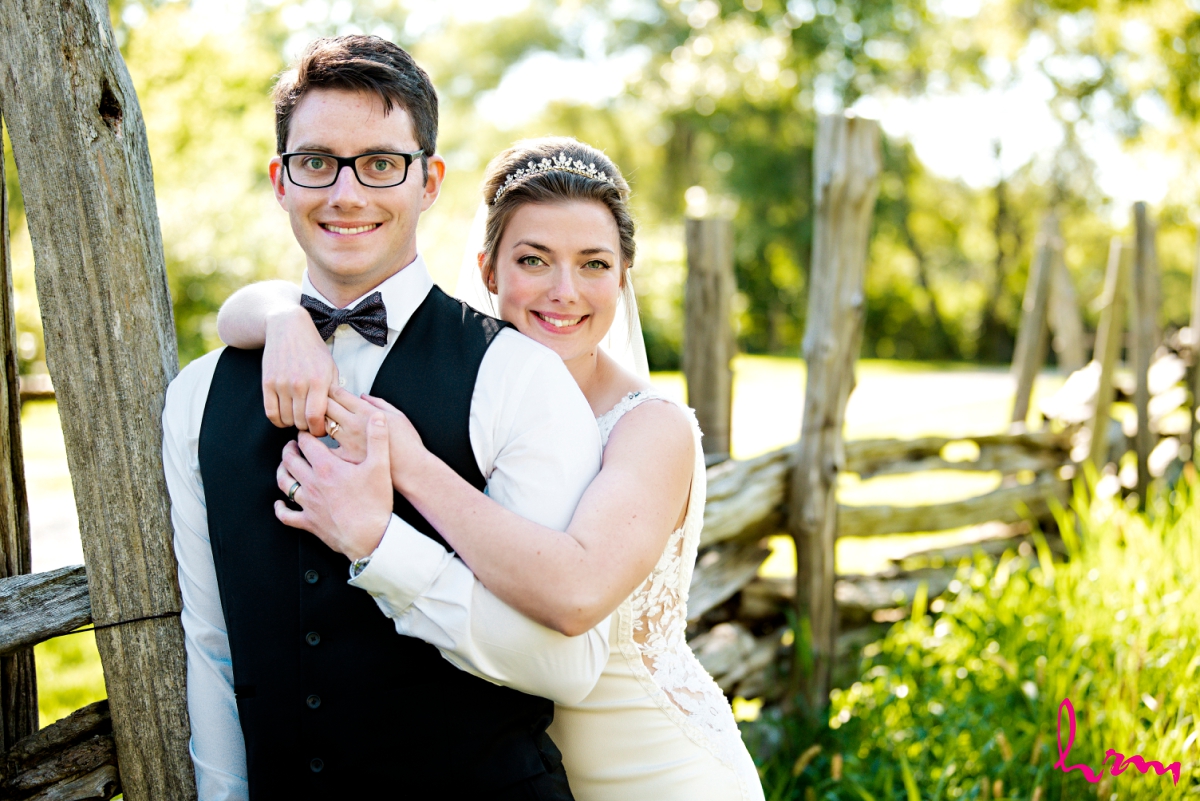 Describe the vision/theme you had for your wedding in 5 words or less:
Elegant, fun, wholesome, purple, historical

What are you favorite memories of your wedding day?
Bride: Walking down the aisle with both of my parents, seeing my sharp dressed husband for the first time, exchanging our own vows, portraits, and seeing our closest family and friends!
Groom: Hearing Cynarra's vows and saying my speech!

Best wedding related decision:
Postponing our wedding to the fall due to COVID-19 and not completely cancelling it this year

Favourite detail:
My husband's grandmas handmade floral arrangements and twinkle lights hung from the barn ceiling

Advice for future brides & grooms:
Take a minute to soak in the day and fully process that moment.

Would you change anything if you could do it all over again?
No!

Best surprise of the day:
Seeing each others outfits for the first time at the ceremony because we both didn't know how we would look!
VENDORS: Ceremony & Reception Location: Fanshawe Pioneer Village | Dress (designer and/or store): Savvy Bridal Consignment Boutique, St. Thomas | Hair/Makeup: Hair: BeautifulYouHair by Sarah | Caterer: Landstra Catering | DJ: Schwartzentruber Music Services | Rings/Jewelery: Mappins / Poags | Groom's Attire: Moore's | Bridesmaids dresses: Lulu's |
Other: Boxcar Donuts in lieu of wedding cake

WEDDING SONGS:
Processional: Pachelbel's Canon | Recessional: Pachelbel's Canon | First Dance: When You Say Nothing At All – Alison Krauss and Union Station | Groom/mother: Loves Me Like a Rock – Paul Simon  | Bride/father: Daddy – Abby Anderson
KUDOS:
HRM is the best! Niki and Jordan are a dream team! From the moment I saw HRMs' portfolio, I knew I wanted to hire them! I thought for sure my original wedding date in July 2020 would be booked, but Niki was available! From that moment on, the communication with Niki was always prompt and very professional. Due to COVID-19, we had to re-schedule to September and Niki was graciously able to accommodate the change in plans.
On the day of the wedding, both Niki and Jordan were incredible. Both very down-to-earth, funny, super nice, and confident! I was about 30 minutes late arriving to my venue, and Niki was there waiting for me. There was no sense of urgency and off we went to take our first photos calmly and collectively. Just FYI, Niki is a pro at pinning on boutonnieres! Throughout the entire day, Niki and Jordan worked together to keep us on our timeline. Niki did an amazing job with our family photos and welcomed more combinations than were originally listed. Niki also came prepared with bobby pins and pinned my veil back into place because it was starting to fall out and even bustled my dress for me before our first dance. Taking our portraits was so much fun! It was clear that both Niki and Jordan have such artistic eyes. You can tell they love what they do when they say things like "I love this light" or "I have a vision!".  Their direction in posing us was all so seamless and they welcomed any visions we had and ran with them.
We received our sneak peeks only a few days after the wedding and we absolutely fell in love with them! We were beyond ecstatic when we received the remainder of our photos! Our portraits are absolutely stunning! We received close to 1000 beautifully composed photos that tell our wedding story to perfection! 
Thank you so much Niki and Jordan! Your work will be treasured by not only us, but the generations to come! 
– photographed by Niki