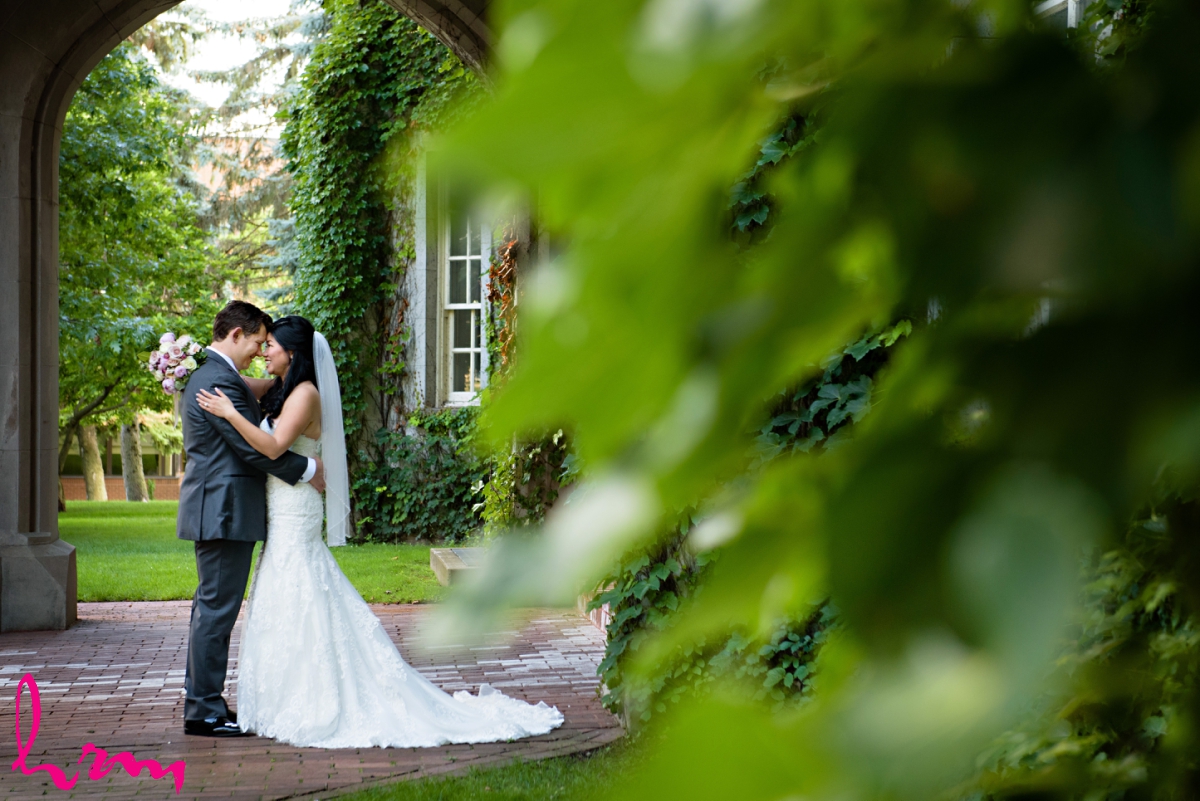 Describe the vision/theme you had for your wedding in 5 words or less: Simple, elegant, fun, love-filled
What are you favorite memories of your wedding day?
Bride: Walking down the aisle with my dad. He was so nervous and proud! As we progressed down the aisle I got to see surprise after surprise: a room full of the people I love the most (all crying), a gorgeous alter that was DIY decorated by an army of friends, seeing my stepson crying (in a good way) and of course seeing Nucu beaming as we approached.
Groom:Seeing my son immediately following the ceremony. He was looking for us with tears in his eyes. When he saw us, he ran over in tears sobbing "I'M JUST SO HAPPY!". The three of us hugged forever…it was amazing.
Best wedding related decision: Deciding to get married in London. We live out of town, but wanted to be able to have our families with us. Nucu's parents live in Europe and traveled to Canada for the wedding. Deb's parents live in London and her mum is ill and requires full-time nursing care so we made the decision to have the wedding close to her. All four of our parents and our siblings were with us for the wedding, and it's probably the only time in our lives that we're all together. Our friends and other family were really understanding and never batted an eyelash about travelling to London to be part of our day.
Favourite detail:
For Nucu it was getting the cake from our favourite bakery, Amadeus Patisserie. Friends carefully transported it from the GTA to London so we got to see our favourite cake transformed into a gorgeous wedding cake.
For Deb, having a couple of pairs of really special wedding shoes: Christian Louboutin heels and Manolo Blahnik flats. What better time is there to splurge on shoes than your wedding day, eh?
Advice for future brides & grooms: People always say don't sweat the small stuff, but feeling stressed is inevitable. We sweated about some small stuff but never got hung up on it…that was key. We also took a few steps back at the wedding to appreciate all the wonderful things about it: all the good stuff that came together, and how great it was to celebrate with the people we care about the most.
Would you change anything if you could do it all over again? We would go to bed earlier the night before and wake up earlier that morning.
Best surprise of the day: We had a wedding ring debacle during the ceremony! Our little ring bearer Harvey lost both of our wedding rings on his way down the aisle! He dropped Deb's coming down the aisle and Nucu's when he got to the front. It was one of those things that some would interpret as a disaster, but we all thought it was hilarious. Mind you, it may have been less hilarious had we not found the rings! Even though they rolled away, our guests found them and our photographer Niki was able to discreetly run them up to the alter without anyone noticing. It makes for a great story and it's cool that Niki was a part of it!
Anything else you'd like to add: After zipping around Toronto with Niki during our engagement photos, we already knew she was someone special. In addition to saving the day during our ceremony, she even ducked in for a few quick pics when the bridal party snuck over to the Runt Club for a mid-day drink after hair and make-up! We are so happy that she also became such an important part of our wedding. Thank you so much!
VENDORS:
Ceremony Location – Gunnery Room in the Delta London Armouries | Reception Location – Gunnery Room in the Delta London Armouries | Officiant: HD Officiants | Cake: Amadeus Patisserie | Dress: Morilee by Madeline Gardner – from Best for Bride in Toronto | Wedding Planner – Brittany Labrie | Flowers/Decorator – Flowers: Sweet Stems Florals Decorations: Mariana and Dima Rosca, Catalina Dogot, Giorgiana Radu and Nucu Radu | Hair/Makeup – Taz Hair. Co. | Caterer – Delta London Armouries | DJ – Music Central | Groom's Attire – Moores Clothing | Bridesmaids dresses – David's bridal | Other – Shoes: Christian Louboutin Pigalle Follies pumps from Christian Louboutin Toronto. Manolo Blahnik Hangisi flats – Davids Footwear Toronto
WEDDING SONGS:
Processional – A Thousand Years (instrumental) by the Piano Guys
Recessional – I'm Yours by Jason Mraz
Entrance – Feel So Close (full version) by Calvin Harris
First Dance – A Thousand Years (original) by Christina Perri
First Dance routine choreographed by Anastasia at Artistica Ballroom Studio in Aurora