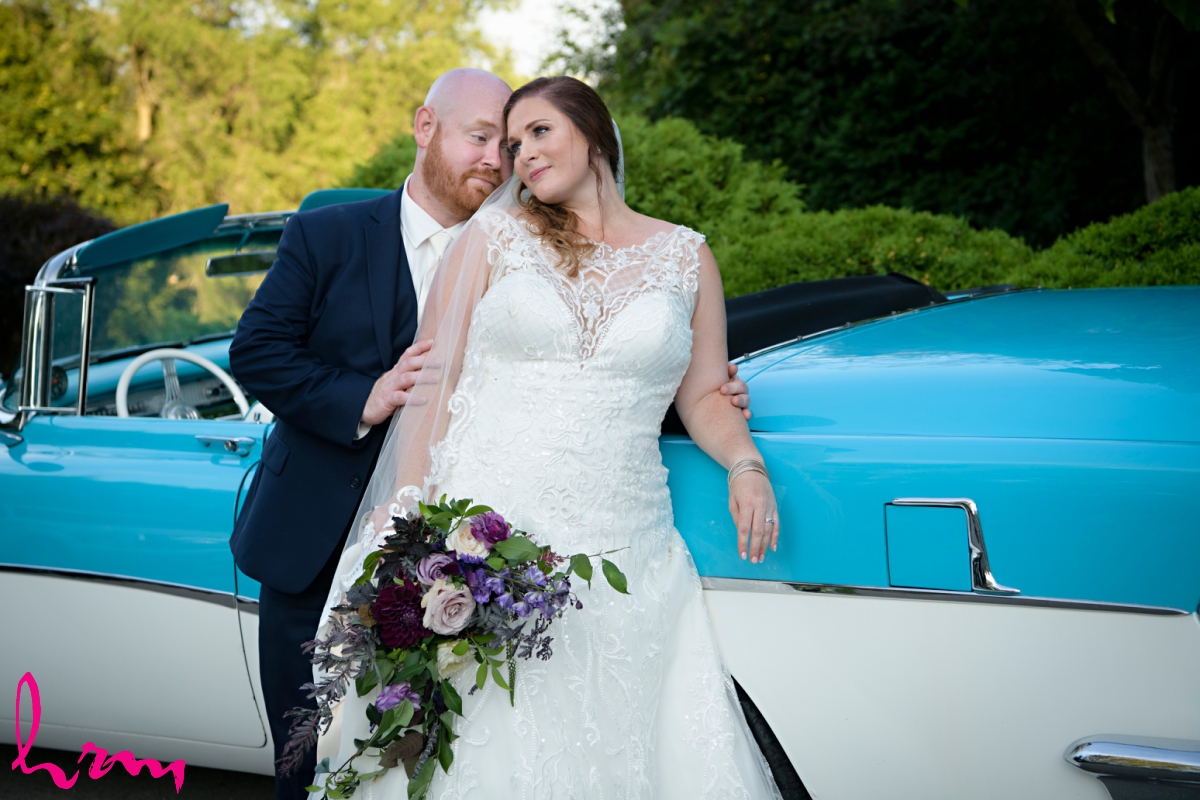 Describe the vision/theme you had for your wedding in 5 words or less: Romantic, Vintage, Scotland/Ireland inspired
What are you favorite memories of your wedding day?
Bride: Meeting with Trevor for a hand squeeze without seeing him before the wedding (and now seeing the full picture of what that looked like in the photos), the moment my dad and I got to see one another in the bridal suite before the wedding, seeing everyone smiling and happy as my dad and I came down the aisle, feeling as though Trevor and I were the only ones there when we were st the alter together despite there being so many people at the ceremony watching (I didn't expect to feel like this….I thought I'd be hyper-aware and nervous about everyone watching), so many hugs from our nieces and nephews in their cute outfits throughout the day, my brother's toast to the fallen and those unable to attend, or handfasting ceremony.
Groom: Getting to do the no look "first look" with Aimee before the wedding and just have a more quiet moment together without spoiling the surprise of seeing her come down the aisle in her dress. Also, when Aimee's Dad and my Dad high-fived after Aimee's Dad had given her hand to me.
Best wedding related decision: Choosing to host our wedding at the Elm Hurst. We had looked at so many other places because initially we were looking for a venue that offered a space that didn't fall into the traditional "ballroom" description. The location ended up being perfect for both our families though in terms of where they were coming from, it allowed people to stay and celebrate longer with us more easily and comfortably because they could spend the night in the hotel rooms offered by the venue, and it made our set up and getting ready so much easier during days leading up and on the day of since it was so close to our home. On the day of, the service that the staff offered was amazing and the work they put into making our vision come to life was incredible. Having our coordinator, Chantal, made everything run so smoothly as well. She was such am asset to us during the entire process. Having Heather from HRM as our photographer was also a decision that we were so grateful to have made. We were so incredibly impressed by how she managed to tweak our reception schedule on the fly to make sure we were able to get all of the pictures that we know will be so important to us to have but took initiative to simply make everything happen in coordination with our MC. We didn't have to think about these necessary tweaks at all. Heather simply took initiative to make it happen and guided us to where we needed to be when. By that point, we were incredibly decisioned out so being able to simply enjoy without thinking about logistics and every detail once the event was happening was so invaluable.
Favourite detail: I loved everything! I'm really happy that with help, I was able to get handpainted scenes of Scotland and Ireland complete for the framed table numbers though. 15 paintings in a short time was a lot! I also loved our wedding cake and sweets bar though complete with butter tart tower!
Advice for future brides & grooms: Do your best to ask for help and delegate where needed, especially if you're a perfectionist and artsy control-freak like myself! Have fun together while your planning and do your best to work as a team…use one another's strengths as you piece together the details so that you don't have things designed for the day that is supposed to officially bring you together, driving a wedge between you in the stressful days leading up to the event.
Would you change anything if you could do it all over again?
I wish that some really important people in our lives hadn't been dealt unexpected difficulties at the time of our wedding so that they were able to be there; I just know they would have had an awesome time and their energy and warmth were so missed. We tried to have these people there in spirit in lots of little ways though which was really nice.
Best surprise of the day: Seeing how everything came together and was so beautiful when I got to have a sneak peak of the reception space before all the guests were brought in for dinner and similarly, seeing our flowers. I had picked out and ordered meaningful blooms with the help of my brother-in-law (who owns/runs floral greenhouses) and our decor/floral designer, but had no idea what the bouquets and floral arrangements would look like.
VENDORS:
Ceremony Location – The Elm Hurst Inn and Spa, Ingersoll, ON in The Valley | Reception Location – The Elm Hurst Inn and Spa, Ingersoll, ON in The Grand Ballroom | Officiant – Lori Minler | Cake – Wedding Cake by Grandma's Oven Bakery in Alymer, ON | Dress – Eddy K from Petrov Bridal in London | Flowers/Decorator – Flowers grown and sourced by our brother-in-law, Jonathan Koster (Springflower Ltd.) | Decor and Floral Design by Susan Findlay of Scarlett's Table | Hair/Makeup – Hair by Sarah Marshall of Tease and Company, Makeup by Kayla of AlyCat | DJ – Tyler Erdie of L.O.V.E. Music and Entertainment Services | Rings/Jewelery – Wedding Bands by Mike's Custom Jewellery in Ingersoll, ON | Engagement Ring from Nash Jewellers in London, ON | Groom's Attire – Joseph's Clothiers in London, ON | Matron of Honour: Almond Champagne tone by Hailey Paige from Petrov Bridal | Bridemaid: Platinum Blue-purple tone by Hailey Paige from Petrov Bridal | Bridesmaid: Rose floral dress – from Nordstrom Bridal | Bridesmaid: Pale Blush tone from Ted Baker | Dessert Bar prepared by Andria Kilgour of Badass Baker
WEDDING SONGS:
Processional – wedding party: Beatles " Here Comes The Sun" and Jason Mraz " I'm Yours"
Bridal: Yiruma's "River Flows In You"
Entrance – "Happy" Pharell Williams
First Dance – Thomas Rhett's "Die A Happy Man"
Parent Dances – Dad/Daughter: "Walk With You" by Edwin McCain
Mom/Son: "Do I Make You Proud" by Taylor Hicks