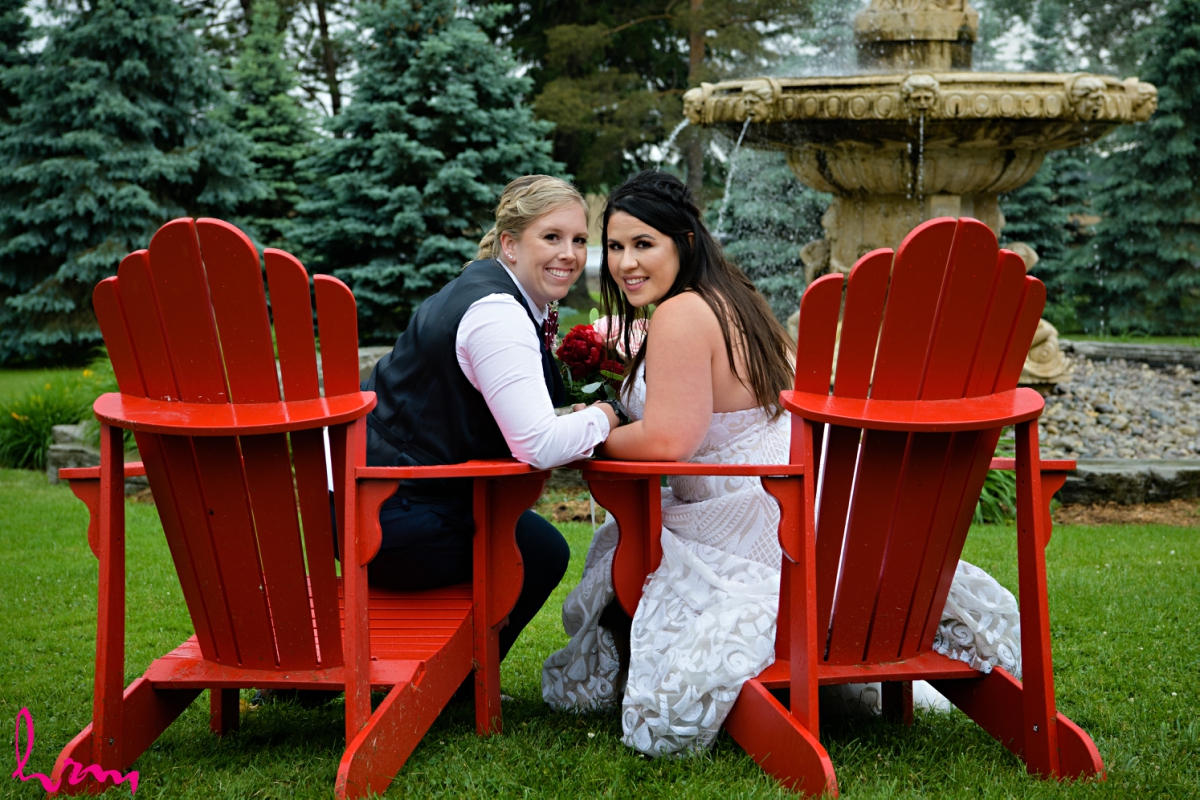 Describe the vision/theme you had for your wedding in 5 words or less: Romantic, elegant, fun, inclusive
What are you favorite memories of your wedding day?
Miranda: Walking down the isle looking at my wife and all of our family and friends with huge smiles on their faces even though it was raining. I also loved the dancing all night long with friends and family.
Caitlin: The moment right before the ceremony began. The bridal parties and I were waiting at the top of the hill in the rain, and I knew all of our friends and family were in the valley and it was go time!
Best wedding related decision: To keep the ceremony outside despite the rain. We think it made it really unique!
Favourite detail: Involving our double doodle, Riley, in the wedding. Riley and Cait had matching polka dot bow ties!
Advice for future brides & grooms: Don't procrastinate! Also, be okay with going with the flow on the day of – things happen that you didn't expect, and things don't happen that you expected to happen. No matter what happens, you're surrounded by everyone who loves and supports you, and there is nothing better than that!
Would you change anything if you could do it all over again? Absolutely not. We loved our day!
Best surprise of the day: That Miranda showed up on time and remembered the rings! – Cait
VENDORS:
Ceremony Location – The Elmhurst Inn & Spa | Reception Location- The Elmhurst Inn & Spa | Officiant – Lori Hawkrigg | Videographer: Andrew Wyton of Wyton Weddings | Cake- That Little Cake Place | Dress – Hayley Paige – Petrov's Bridal | Flowers- Country Goose – Strathroy | Decorator – To Suit Your Fancy | Hair – Miranda: Kellye Sauder (Soma); Caitlin: Thyda (Alycat) | Makeup – Miranda: Cassidy (Esteem); Caitlin: Catherine (Esteem) | Caterer – The Elmhurst | DJ- Kelly Maher | Rings/Jewelery – Richmond Diamonds and Nash Jewelers | Bridesmaids dresses – David's bridal
WEDDING SONGS:
Processional – You are the best thing (instrumental) by the Bridesmaids Quartet (Bridesmaids); I will follow you into the dark (instrumental) by the O'Neill Brothers (Cait); Yours (Instrumental) by the Bridesmaids Quartet (flower girls); Marry Me (instrumental) by the Bridesmaids Quartet (Miranda)
Recessional: Hold My Hand: Jess Glynne
Entrance: Boom! by Tiesto
First Dance: How Long Will I Love You – Ellie Goulding
Parent Dances: My Little Girl by Tim McGraw (Cait); My Wish by Rascal Flatts (Miranda)