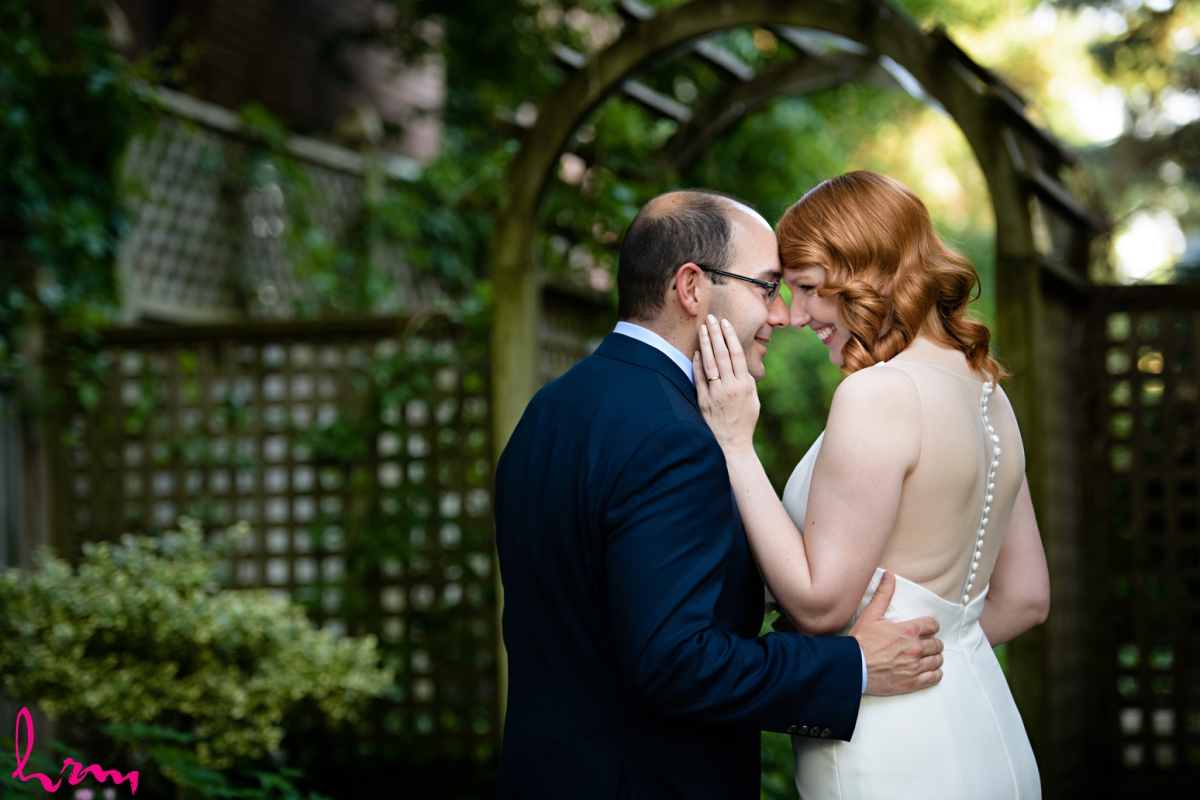 Describe the vision/theme you had for your wedding in 5 words or less: Simple, elegant, intimate, and vintage inspired.
What are you favorite memories of your wedding day?
Bride: We wrote shared vows that represent our commitment to each other. Saying these vows in a beautiful setting, surrounded by our family and closest friends, is my favourite wedding memory.
Groom: The "wow" moment when I saw Marcie walking down the aisle in her vintage inspired dress; exchanging the vows we authored together in front of family and friends in a beautiful setting; and the many laughs Marcie and I shared as we took photographs together at the Idlewyld Inn. In the end, I was so happy to enjoy all the little details come together to form our special day and to see Marcie and our guests enjoy them too.
Best wedding related decision: The venue. The Idlewyld Inn embodied the vintage-inspired elegance, intimate feel, and naturally-beautiful setting we wanted (with no additional work required on our part).
Favourite detail: Our custom-designed rings from a tiny shop in Paris. They are very personal and we had such a memorable experience working to design them. Merci beaucoup!
Advice for future brides & grooms: Leading up to the day, focus your resources on the things you truly care about as a couple. For us, after the venue, that was our vows, our attire, our guests' experience, and our cocktails. Something that made our wedding intimate was that many of the "vendors" involved were people we had an existing relationship with, including our florist (Lauren), makeup artist (Meghan), and singer (Tora); we trusted them to be the artists that they are while knowing our tastes.
Would you change anything if you could do it all over again? Arrange to have photographs taken before the ceremony so that our post-ceremony time was focused on our guests. We were reluctant to do so as we wanted to have "that moment" when we first saw each other during the ceremony.
Best surprise of the day: The weather! It was sunny and not too hot. Absolutely perfect.
Anything else you'd like to add: We were fortunate to collaborate with a group of lovely and talented people who made our wedding vision come to life! Heather from HRM beautifully captured the day for us and we will treasure her photographs.
VENDORS:
Ceremony Location: Idlewyld Inn (Courtyard) | Reception Location: Idlewyld Inn | Officiant: Jeff Hicks | Cake: macaron, Petit Paris; cannoli, Angelo's. | Dress: Enzoani/Carlisle's Bridal | Flowers/Decorator: Lauren Knight | Hair/Makeup: Cassidy O'Connor/Meghan Beasley, Salon Entrenous | Caterer: Idlewyld Inn | Musicians: Tora Klassen & Dave Usselman | Rings/Jewelery: Wedding bands: Paulette à Bicyclette, Paris, France; Engagement ring: family heirloom; Bride's necklace: Macy's | Groom's Attire: Nordstrom; Bow tie & custom-embroidered handkerchief: Andrew Douglas Clothier | Flowergirl dresses: Cinderella Couture
WEDDING SONGS:
Processional: When The Right One Comes Along
Recessional: Instrumental of When The Right One Comes Along
Other: Signing – La Vie en Rose